Both Tuesday night games in the ERSTE Liga were decided in a shootout as DEAC and Csíkszereda won on the road.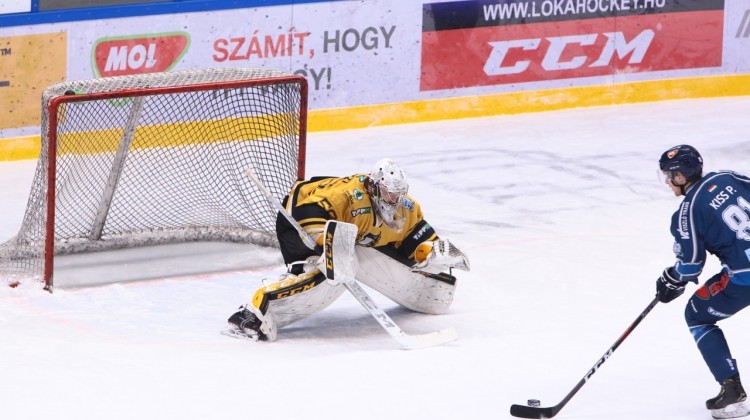 Fehérvári Titánok-DEAC 3-4 (1-0, 2-1, 0-2, 0-0, 0-1) SO
DEAC started off better as they really worked Gyenes in the opening minutes and on the first power play of the game. Tamás Sárpátki scored the first goal of the game in the 13th minute. Debrecen came out battling in the second period as Attila Németh scored off of a centering pass from Péter Hetényi. Fehérvár reacted quickly to this as Roland Kiss scored off of a long shot. The Titánok opened up a two goal lead when Hunor Császár made it 3-1. Fehérvár started the third period off well as Sárpátki had a scoring chance but Hetényi made the save. In the 45th minute Izacky scored off of a counter attack to make it a one goal game with Hugo Turcotte tying the game up after scramble in front of the net. Neither team was able to score another goal in the remaining time regulation of in overtime. In the end the game was decided in a shootout in which DEAC came out better.
Gyergyói HK-SC Csíkszereda 3-4 (1-0, 0-2, 2-1, 0-0, 0-1) SO
The Transylvanian derby was an exciting back and forth game. Right at the start of the game both teams picked up a penalty but neither team scored in 4 on 4. It was the home team that scored first as Roland Benedek made it 1-0. In the second period Andrei Taratukhin tied the game up, in the 33rd minute he scored his second of the game to give Csíkszereda the lead as the teams headed into the third period. In the 47th minute Karpus scored a power play to tie the game up but a minute later Szabolcs Papp scored off of a long shot to give Csíkszereda back the lead. In the closing minutes Gyergyó pulled their goalie for the extra attacker and this paid off as Vorobiev scored with just two seconds left in the game to send it to overtime. In overtime neither team managed to score, in the shootout Belov had the winning shot.