This week the Fehérvári Titánok picked up two wins, in large part to their defence. In two games the team allowed a total of three goals. Netminder Martin Szeles stopped 70 out of 73 shots for 96% save percentage and had a goals against average of 1.5. In addition to this he also registered an assist to go along with the two wins. Because of this he is this week's Player of the Week.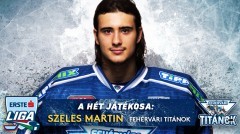 Martin Szeles grew up in Székesfehérvár adn started playing hockey at an early age. He came up through the Ifj. Ocskay Gábor Jégkorong Akadémia and made his pro debut last season appearing in one game in the ERSTE Liga. This year he has been rotating in the net for the Fehérvári Titánok with Dávid Gyenes and Dániel Kornakker. In his first full season as a pro he has played 11 games. Szeles has also played for the Hungarian U18 and U20 national teams, he has represented Hungary at two U18 World Championships and will be playing in his first U20 World Championships next week in Tychy, Poland.
The Titánok picked up two wins and you played well also, how did you feel the two games went?
I had a lot of help from my defencemen and the forwards also blocked a lot of shots in front of me, they really helped me. I was also able to make a number of saves and we were able to get out of the losing streak that we were in.

Last year you appeared in one ERSTE Liga game and now you are a stable member of the team, what has been the biggest difference from playing in a U20 league and the pros?
I noticed the difference at the start of the season, last year I played a total of six minutes in the ERSTE Liga and at the time I didn't notice it but this season I did. It is a huge difference between playing in a youth league and the ERSTE Liga. The players are stronger the game is faster and the shots are harder. It took me some time to used to this pace.
Dávid Kiss is rotating you, Dániel Kornakker and Dávid Gyenes is net, what have you been able to learn from the two older goalies and how have they helped you?
They help me alot at practice and during each game, they support me a lot. I am the youngest goalie so I am working hard to keep up with them, or maybe even pass them. They help me and so does the coaching staff and the rest of the team as well.
How did you start playing hockey?
When I was in preschool we had an opportunity play a different sport each week. We would try swimming one week, soccer the next and skating the week after and so on. After trying hockey I was asked if I would like to give hockey a longer look. I started going to skating classes and then hockey practice after a short time I was an amateur player for Fehérvár.
You are on the U20 national team, how do you hope the next 10 days will go?
I was happy to get the invite for the camp, we will go to Poland and do everything we can to play well during the tournament. I think we have a good chance to win the tournament, we have a really strong roster.