This past match week Brasov took three out of three games in Hungary against teams that are just behind them in the standings and have won 10 out of their pest 11 games. The team has moved up to third place and are four points behind FTC-Telekom. In the three game stretch Jereme Tendler had four goals, three assist and very impressive +9 to beat out his teammate Robert Gliga for this week's Player of the Week award.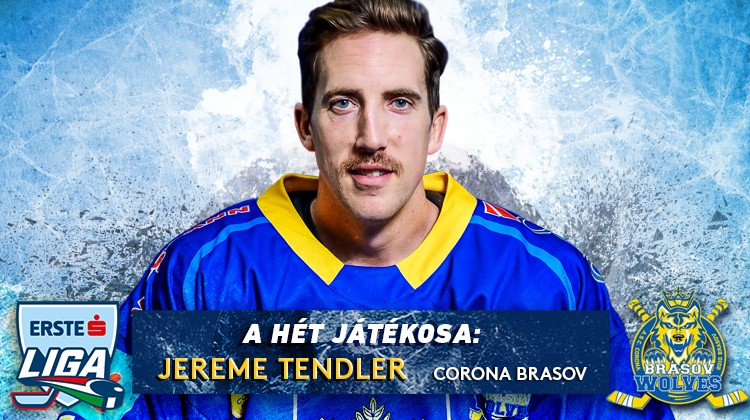 The Viceroy Saskatchewan native spent his junior seasons playing Weyburn of the SJHL before moving on to American International College where he was a the leading scorer on his team. After graduation he spent the next couple of seasons in the minor leagues, he was teammates with Hungarian national team defenceman Jesse Dudás in Corpus Christi of the CHL. Tendler would later move on to England where he played four seasons in Hull and one in Coventry, among his teammates he played with former NHL players Drew Bannister and Steve Goertzen as well as players who would spend time in the the league such as Rory Rawlyk, Tomas Valecko and Vladimir Nikiforov. After spending three seasons with Ferencváros, Tendler signed with Brasov in the offseason.
Brasov took 3 out of 3 against teams that are near you in the standings, what has been working for you guys recently?
I think recently the team has just been playing very simple. We've been rolling with four lines and everyone has been working really hard. All three games were huge points for us and being no easy games in this league when being on the road. We are very ecstatic about the nine points we picked up.
What about you personally? it looks like things have settled down for you and you have been scoring at a consistent rate?
Yes, it feels good to score but it is always better to win! Our line has been producing as a whole recently and with a little puck luck on our side things have been bouncing our way and going in.
It looks like there were some roster changes since the start of the season, what is the locker room environment like?
It is a sport and just like any sport changes always happen, you just have to keep being focused and go out there and do the job you are there to do. All the guys are great and it makes everything better when you are winning games.
After spending about three seasons with Ferencváros, what was the reasons for signing with Brasov in the off season?
My contract was up so I was looking for new options. Corona Brasov made me an offer, I know the league and knew a little about the the city.  I had other options but the next thing you knew I was a Wolf.
This is your ninth season in Europe, what has it been like starting a family and now raising two boys outside of North America?
It has been great we are very diverse family, I am Canadian, my wife is American and we were married in Mexico. Our first son was born in England and our second was born in Hungary. They have seen well over 15 countries making them every adaptable. Every day  is a new experience that we are all grateful for!