FTC and Csíkszereda picked up shutout wins with UTE winning in the final minute of play against Fehérvár in the first round of the ERSTE Liga playoffs.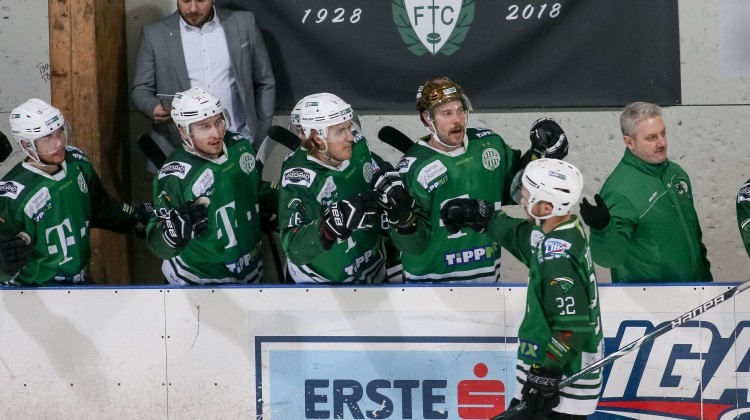 FTC-Telekom Vienna Capitals 2-0 (1-0, 1-0, 0-0)
Fradi started the game off better with more shots on net but Vienna was stable in the backside. The Capitals had a number of scoring chances but they were not able to get past Gergely Arany. Fradi scored first when Adrián Tóth banged home a centering pass from Attila Rafaj. At the midway point of the game Fradi doubled their lead when Pavuk set up Walls with a breakout pass, who then scored. Fradi really started to press as Pavuk and Preiser had chances  but in the end the two goals were enough for FTC.

UTE-Fehérvári Titánok 4-3 (2-1, 0-1, 2-1)
UTE controlled the game at the start and in the sixth minute scored the first goal of the game when Taylor Stefishen set up Andrej Hebar for the goal. Patrik Kiss tied the game up with a power play goal. After some back and forth hockey in the 18th minute UTE took back the lead off of a counter attack which finished with a Ropret goal. Fehérvár had chances in the second period however Duschek played well. In the closing minutes of the period Ákos Miháyl tied the game up at 2-2 off of a pass from Jack Lewis. The game was still tied up at 2-2 with ten minutes left when Hunor Császér gave the visitors the one goal lead. UTE picked up the pace in an effort to tie the game up, two minutes later Peter Huba tied the game up with Péter Vincze scoring the game winner in the final minute of play.
SC Csíkszereda-Corona Brasov 3-0 (0-0, 1-0, 2-0)
The first period came and went without a goal being scored. The second period started off with a Brasov power play but it was Csíkszereda that opened up the scoring as Tamás Részegh and Szilárd Rokaly combining  for a 2 on 1 with Rokaly scoring the game winner. In the final period was intensive as Shulakov hit the pipe and Belov nailed Polc square in the head. Rokaly scored his second goal of the game to make it 2-0, in the closing minute Shulakov scored an empty net goal in the end as Csíkszereda took the game 3-0 with Lundström picking up the shutout win.