The first round of the ERSTE Liga playoffs have come to a conclusion. UTE swept Fehérvár four games to zero during the series Péter Vincze scored in all four games which included two game winning goals, one of them coming in the final minute of play. WIth four goals and an assist he is the quarter finals MVP.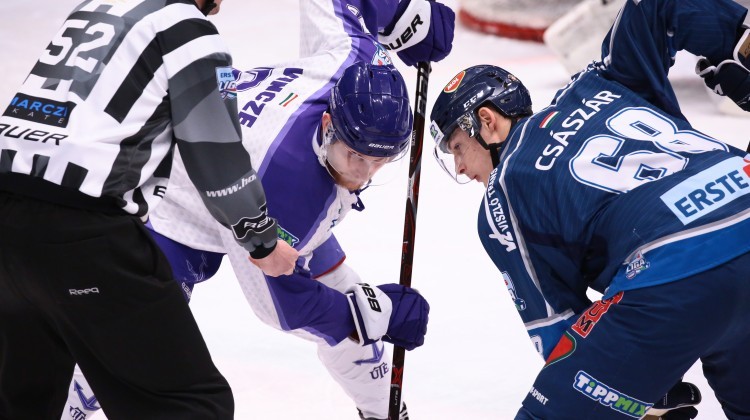 Péter Vincze started playing hockey the youth system of his home town of Fehérvár. He would make his pro debut in the MOL League during the 2011-12 season and would make his debut in EBEL two seasons later. He would spend another four seasons in Fehérvár before moving on to DVTK in the Extraliga this past offseason. He would not stay long in Miskolc as he switched mid season to UTE. He represented Hungary at three U18 World Championships and three U20 World Championships. He has appeared in 20 senior national team games and was part of the World Championship team that won promotion to the A-Pool during the 2015 World Championships in Krakow, Poland.
What was the key to UTE sweeping the series against Fehérvár?
These four games where not so easy for us, especially the first two, the third game might have been the only one that we controlled from start to finish. In the first two games we had to comeback since Fehérvár had the lead with ten minutes left in the game. In the fourth game it was 2-2 with nine minutes left. In the end the end the difference might have been the experience and that we believed in ourselves. After each win we kept on gaining confidence.
Including the four games against Fehérvár you have scored goals in eight goals in the past ten games, how come you have been on such a hot streak?
I don't really know the keys to my success, I have been able to score on my chances, which was not happening until now. With Ladislav Sikorcin getting injured I have taken his spot on that line which is more of a scoring line. Up until know I was on the third line where we would go up against the opposing team's top line where we had to defend more.
What will UTE need to differently or better to get past Csíkszereda?
This will be completely different series compared to the previous one. Csíkszereda is a lot more of an experienced team. What we have seen on film is that they are not as an aggressive team in their forchecking. We need to stick to our game plan and we need to be aggressive and to check a lot. The Russian players that they have do not like the physical style of hockey, they like posses the puck more. We need to play simple and aggressively against them, this will probably be the key to the series.
How come you made the switch mid season to join UTE from DVTK?
The biggest reason was playing time. I left Fehérvár in the offseason so I could have more playing time in a top league, this did not work out. I was not able to find a place in the top three lines and I was not playing as much as I would have liked to. I talked to the coaching staff and the management about this, they were very correct and I would like to thank them for the way the situation was dealt with and how they let me go when they could have just kept me there incase of injuries, which did end up happening once I left. I was able to build myself back up in UTE.
Why did you and your brother choose to play hockey?
This is an interesting story, we used to live in the same building as the Tóth brother, Adrián and Gergő who are both now in Ferencváros. They were already playing hockey but during the summers we would go down to play on the pavement in front of the building with hockey sticks. My dad was watching the 1998 Winter Olympics and he took a liking to hockey, so the following Christmas I got a set of hockey equipment and that February I turned four years old and started to play hockey for Fehérvár. I really liked and my brother Gergő followed in my footsteps.