First place Sport Club defeated Ferencváros for the second time this season. DEAC scored ten goals, Dunaújváros surrendered 11 in Vienna. UTE and Fehérvár also won.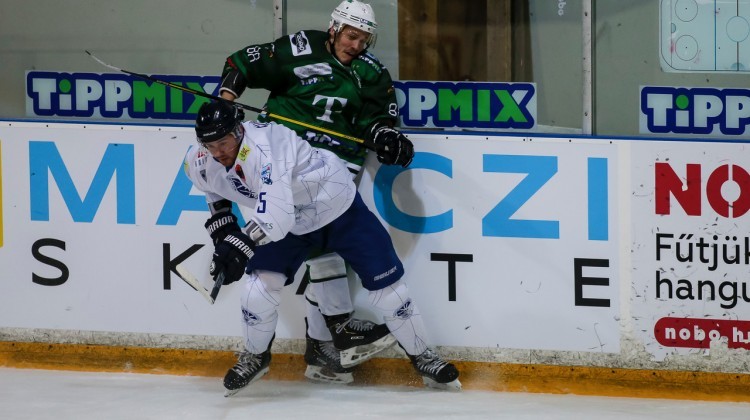 SC Csíkszereda-FTC-Telekom 3-2 (0-0, 1-1, 2-1)
The ERSTE Liga derby between the top two teams in the league was played in a great environment. Both teams started the game with great momentum. Csíkszereda had multiple power plays in the opening period but Ferencváros was able to kill the penalties. After a scoreless first period Szabolcs Papp scored to break the draw. After killing a penalty Fradi tied the game up as Attila Pavuk picked up a loose puck and set up Gergő Nagy for the tying goal. Szilárd Rokaly gave Csíkszereda back the lead but five minutes later Taratukhin put Csíkszereda up by two goals. Late in the game Pavuk made it a one score game, Fradi pulled the netminder for the extra attacker but they were not able to tie the game up.
Levente Hozó, head coach, Csíkszereda: We did what we had planned with the team, we paid attentioned to the small details today. This was one of the best games of the season for us, we did miss out on some scoring chances. I am proud of the way the team played.
Szabolcs Fodor, head coach, FTC-Telekom: What was the most positive take away from today's game was that we did not give up and let the game get away from us. We were able to get back into the game.
Vienna Capitals-Dunaújvárosi Acélbikák 11-4 (4-2, 6-1, 1-1)
Dunaújváros has still not won a game with their new head coach as they ran into a pretty bad loss in Vienna. DAB had the first lead of the game in the second minute but the Capitals tied the game up in the 10th minute. DAB scored a power play goal with Vienna scoring two shorthanded goals with Patrick Antal scoring the fourth.
For the second perio Corey Bricknell switched goalies as Kristóf Nagy was replaced by Máté Garbacz. Martin Saluga cut the deficit to one goal but that's when things got out of hand as Sacha Bauer put Vienna back up by two. In the second half of the period in a five minute span Vienna scored five goals, with three coming in a 22 second span. Nagy came back in between the pipes for Garbacz and he gave up the tenth Capitals goal. In the final period Bauer scored his fifth goal of the game with Bence Makovics scoring the final goal of the game for Dunaújváros. Bauer finished the game with five goals and two assists and Hiltunen closed out the match with a hat trick.
Santeri Heiskanen, head coach, Vienna Capitals: If we score 11 goals I can only be happy, we had some smaller problems in front of our own goal but if we score this many goals I don't really care. This was a great win for us, I am proud of our team.
Corey Bricknell, head coach, Dunaújváros: We started off great against Vienna, both teams had 41 shots on net. We were unlucky in net, I can't really say anything else about this game, the puck didn't bounce our way.
Fehérvári Titánok-Gyergyói HK 4-1 (0-0, 1-0, 3-1)
In the first period both teams were more active on the man advantage, at the start it was Fehérvár towards the end it was Gyergyó.In the second period Fehérvár had the first lead of the game when Alex Kovács put home the pcuk off of a pass from Jack Lewis. Later in the period Gyergyó picked up the pace but Martin Szeles stood his ground in the Fehérvár net.  In the first five minutes of the third period Gyergyó was more active but they were not able to score a goal. On the other side in a span of seven minutes Fehérvár scored three times. Patrik Kiss scored first with Bence Szabó scoring a power play goal and Márk Almási stuffed in a rebound for the third goal of the period. In the closing period Roman Tomanek scored to end the shutout that Szeles had going.
Dávid Kiss, head coach, Fehérvári Titánok: We fought hard, I really liked what we did in the third period. The young players played great and had a lot of energy. We scored goals and our goalie played great. We did not give up and we scored goals.

Zsolt Péter, forward, Gyergyó: We were not able to do today what we did yesterday in Dunaújváros. We played well and went hard from start to finish, they played better than us. The forchecked hard and took advantage of the chances.
Schiller-Vasas-UTE 1-4 (0-1, 1-1, 0-2)
Vasas had twice as many shots on net compared to UTE but the visitors had the 1-0 lead as Péter Vincze scored his first goal since joining the team. Vasas switched goalies for the start of the second period but UTE doubled their lead off of a Martin Sági goal. In the closing minutes of the period Tamás Bálint cut it to a one goal game. In the third period UTE had a power play in the 49th minute, which they quickly took advantage of to make it 3-1 when Arnold Varga scored. Taylor Stefishen scored later to set the final score.
Balázs Ladányi, head coach, Vasas: I feel bad about how the third period went for us and we did not give ourselves the chance to stay in the game. We made some small mistakes that prevented us from getting a better result. We need to grow out of this, we have been improving from game to game. We have potential and we did not make it easy for UTE.
Zoltán Szilassy, head coach, UTE: We played a good game against a team who was working hard today. The difference between the two teams was more than three goals. Our goalies played well, but we missed some key scoring chances in the second period which would have resulted in a larger difference between the two teams.
DEAC-HK Budapest 10-1 (3-0, 3-1, 4-0)
The game was only two minutes old and DEAC already had a 2-0 lead with Ákos Berta making it 3-0. In the 28th minute Attila Orbán got Hoki Klub on the scoreboard, however DEAC kept the pressure on which lead to three more goals. In the closing period DEAC put the puck into the back of the net four more times. Norbert Hári and Attila Németh finished with two goals each with Jakub Izacky closing with a goal and two assists.
David Musial, head coach, DEAC: We played well but we had to concentrate from start to finish, however one mistake lead to a goal being scored. We need to concentrate like this every game to keep the form we are in right now.
Tamás Gröschl, assistant coach, HK Budapest: We can not be satisfied with the way we played today. We had won a previous game and the guys thought that they have learned how to play and that everything will be fine. The goal of the team is to always be improving, today we left this path. We need to get back onto the winning path, we need to work harder and compete.